Furthermore, energy efficiency improvement is indirectly the most efficient and less expensive solution to reduce pollutant emissions in comparison to end-of-pipe solutions.
Axens proposes viable solutions to improve energy efficiency within a refinery and/or petrochemical site, leading to a rapid and visible benefits capture. The figure here below illustrates the energy savings achieved thanks to an Axens 2015 energy audit in a CIS refinery.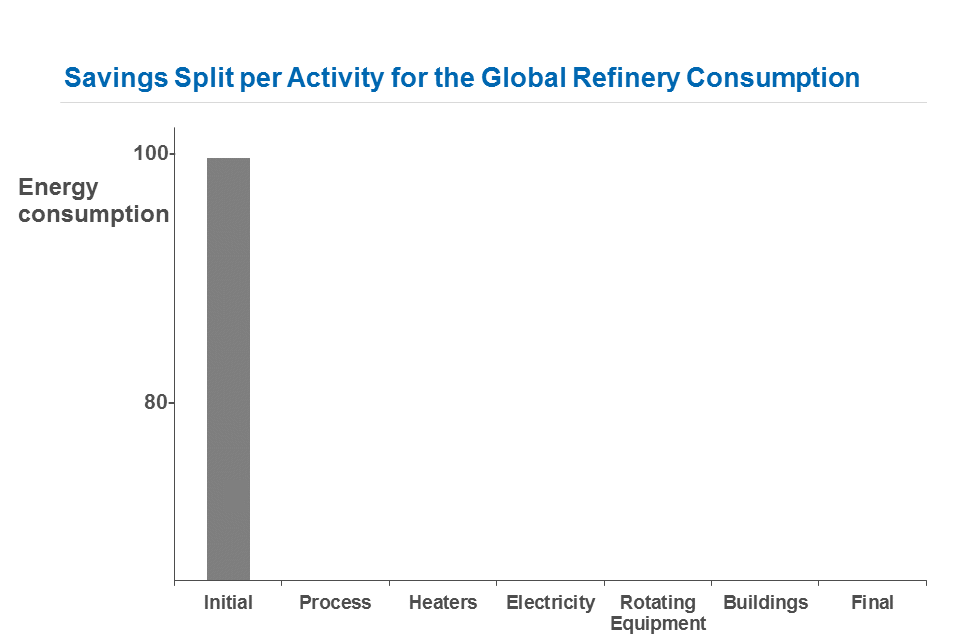 What are the strenghts that make Axens Audit unique?
Complete overview of the energy saving leverages across the plant,
Strong expertise on process and technology to identify the best solutions without compromising the process performance,
Prioritizing the solutions for large quick wins,
Dedicated in-house Linear Programming models for heat exchange optimization
Dedicated support and assistance during the development and implementation phases of the proposed solutions
Axens has developed a robust methodology to identify energy saving opportunities and to propose adapted solutions. Individual processes are examined from the perspective of Axens' strong process and operations know-how to scrutinize the process complexity, interactions and needs, including Pinch analysis assessment.
In order to get the best from Pinch analysis, Axens leans on dedicated in-house Linear Programming models to determine the optimal heat exchanger network solutions for process flow schemes, while taking into account operational and flexibility constraints.
When applying the optimization methodology to an existing facility, our experts conducting the audit will take into account the Plot Plan limitations, minimizing the shut-down time for re-works, limiting the CAPEX and maintaining the heat integration, if any. Each proposed solution is reviewed by a Lead Process Engineer and an expert with more than 20 years of experience in refinery operations, in order to assure the viability of the proposed solutions from both technical and safe operation point of view.
The viability of each solution will be then economically assessed and a financial analysis will be conducted to provide refiners with all necessary information to take the right investment decision.
Solutions
Types of solutions considered for minimizing energy consumption include:
recovering heat through a network of heat exchangers,
modifying equipment operating conditions,
reducing or eliminating energy needs,
re-thinking steam network pressure levels,
reviewing integrity of utility systems and synergies between units and/or nearby facilities.
Examples
In average, depending on the size, complexity and age of the refinery, Axens identifies more than 50 independent solutions, resulting in a reduction of 12 to 25% of the global energy consumption of the refinery.
Those solutions are ranked using technical and financial criteria for preparing Client's selection on the solutions to be further developed and implemented.
Conclusion
Refineries, chemical and petrochemical plants have opportunities to significantly save energy and reduce their OPEX. Axens uses dedicated methodology to identify these opportunities and proposes solutions thanks to its:
Knowledge on technology, process and thermal equipment,
Experience in consulting services,
In-house IT tools.
As licensor, Axens has a unique perspective to fully understand the process complexity, interaction and needs among other energy issues faced by the refineries. The Client is guided and supported through the entire process and is given the keys to successfully implement energy efficient solution.
Axens' services on Energy Efficiency are fully customized to cover customer's requirements and constraints in terms of duration and its associated expenses, from the individual system to the vision of the entire complex.