A growing number of countries is tackling this problem, developing regulations for the proper management and recycling of spent lubricant oil, often accompanied by subsidy policies. Besides these incentives, collecting and re-refining spent lubricant oil is also an opportunity to increase domestic lubricant oil production. Implementing such projects could be a very valuable endeavor, especially for countries which have refineries already producing lube oils.
Axens Support at project onset
In order to verify project feasibility, early studies should not only cover the re-refining plant but also the associated collection and transportation logistics, as well as reliable market information to secure the spent oil supply.

Thanks to its experience in its own spent oil technology Revivoil™, Axens has developed several conceptual studies covering all of the aspects required to assess the technical and economic viability of spent oil re-refining projects. Conceptualizing the recollection, the transportation, and the re-refining plant on a country-wide scale is a complex work that should cover the following steps:
Market Study
Identify adequate spent lube oil sources for re-refining process objectives (oil change centers, garages, industries)

Identify the urban zones where the spent lube oils can be efficiently collected

Quantify and forecast used oil generation for the duration of the projectSelect re-refining plant capacity and the number of trains
Development of the collection and transportation system
Define the number and location of collection centers

Size the storage, the infrastructure, the number of trucks, etc.

Estimate operating and investment costs
Conceptual design of the re-refining plant
Multi-criteria ranking and selection of the best process arrangement

Conceptual engineering of the process unit

Development of the auxiliaries, utilities, and off-sites optimally integrated within the existing site if any
Evaluation of project economics
Financial analysis

Risk assessment

Sensitivity analysis
Social impact assessment
Define the social model analyzing project context

Identify the social factors and variables impacted by the project

Evaluate the social net present value and internal rate of return for the project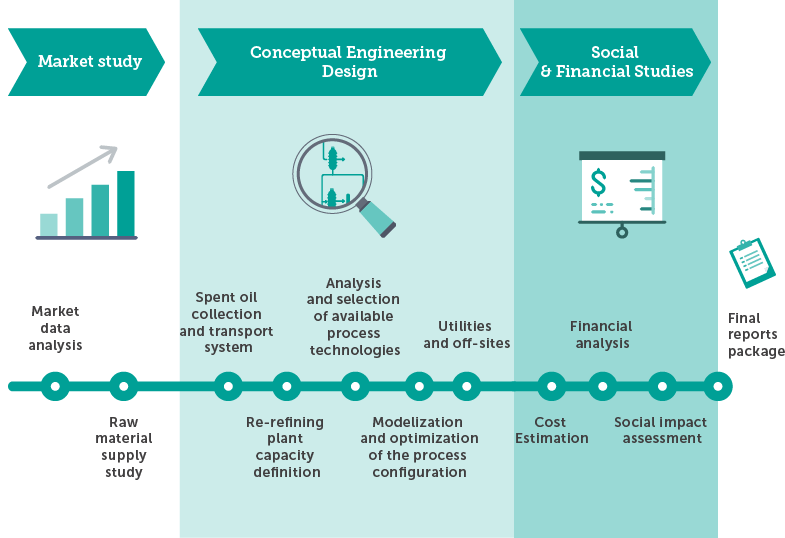 Not only does the final set of conceptual study documents provide the customer with the information they need to support project viability, negotiate with authorities, and secure financing, it also provides the technical basis required to develop the basic engineering.


Complex studies require competent project teams


Developing such complex and integrated studies requires a solid execution strategy and a structured coordination with all parties involved. Axens' team includes market analysts, spent oil re-refining technology experts, process engineers, utility experts, cost estimators, financial experts, safety engineers, and plot plan specialists, among others. It will also require selecting and partnering with local companies that possess an in-depth knowledge of the domestic lubricant market and are able to conduct site queries and surveys. Axens not only relies on its expertise in conducting conceptual studies, but in leveraging its:
Expertise in waste oil collection opportunities, challenges, and best practices
Technology for waste oil re-refining (Revivoil™) & installation-based experience
And last but not least, commitment to sustainable development
Conclusion
Spent lube oil re-refining is a great opportunity to develop profitable projects while coping with environmental regulations and best practices. Axens has recently successfully conducted integrated conceptual studies in different regions of the world that cover the infrastructures, utility systems, and process units involved inspent oil re-refining projects, assessing market viability, and evaluating social impacts.