The Group's mission is to make sure that customers are satisfied and that their facilities operate under the best possible conditions with Axens' products. For that market sector, especially adsorbents and Claus catalysts, Axens relies on a worldwide network of distributors.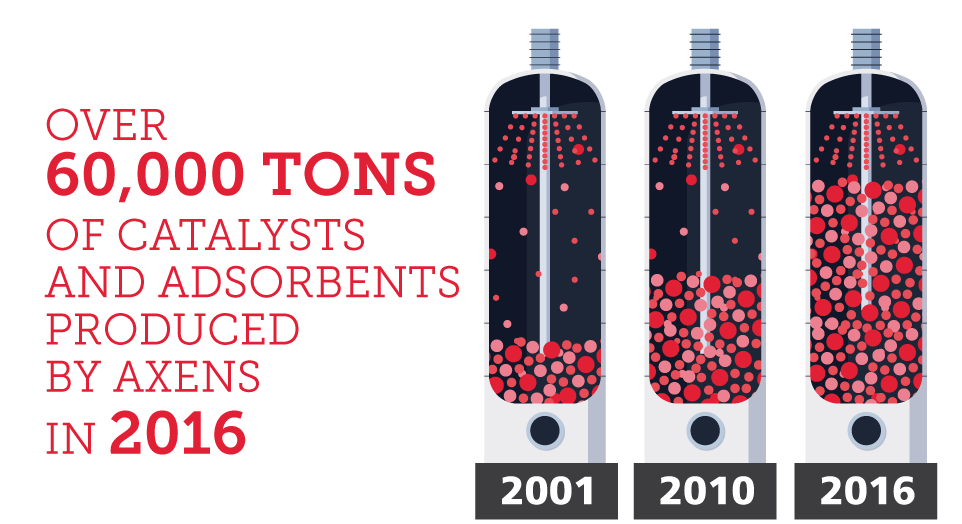 A strong network of distributors around the world

Axens supplies operators with catalysts and adsorbents all around the world, and having the best material, delivered on time, at the right location, is an everyday commitment. To reach every geographical zone, Axens relies on a widespread network of extremely reliable distributors who have become true business partners over the years.

"Relying on distributors that we carefully choose is a true asset for Axens in terms of resources, field knowledge of local markets and logistic optimization."
Jean-Claude Plumail, Adsorbents and Claus Director, Axens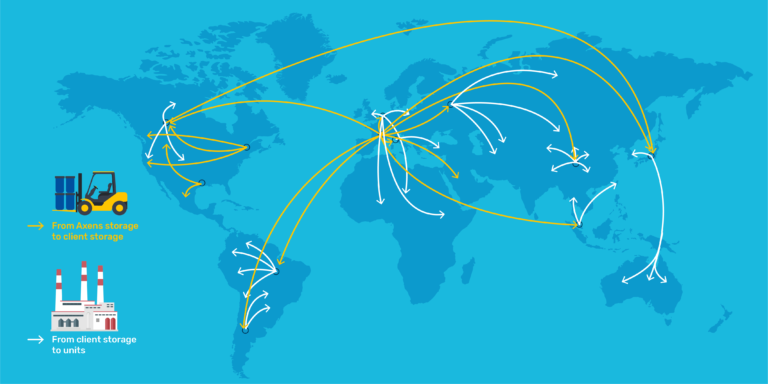 Let's focus on some of Axens' European and North American distributors

Axens has been working with D&F Techniek for 25 years, offering all types of desiccants, such as activated alumina, to the European market.

"We at D&F Techniek are builders of long-term relations. Our first customer is still with us after 25 years!" Ben van Heemst, D&F Techniek

In North America, Axens has been relying on Quadra for nearly 15 years to provide the American and Canadian markets with aluminas and Claus catalysts. Quadra's cross-country infrastructure has enabled customers to access and receive immediate deliveries to ensure that maintenance-related production losses are kept to a minimum, with the lowest possible costs thanks to a strong logistics network.

"Axens' broad and extensive Oil and Gas product portfolio has enabled us to provide the highest quality of products with multiple options depending on the technical and commercial demands for a given customer." Grant Hvizdos, Market Manager, Quadra
The customer first!

All the Group's distributors agree on the fact that the customer experience and level of service play a key role in having long-term relationships that provide value to both the supplier and customer.

"The main benefits that both Quadra and Axens bring is that both companies truly have a "technical solution" and a "customer first" mentality." Ian Cuthbertson, Business Manager, Quadra

The words "customer service" means the same thing for Axens and its distributors. It means not only meeting but also exceeding the customer's expectations. It means being able to come up with tailor-made, flexible solutions in a short amount of time.

"D&F Techniek offers quick responses (4 hours after request!) and is able to supply from 1 kg up to several tons." Fred van der Ploeg, D&F Techniek


A win/win situation

In today's highly competitive environment, high-quality products come with a service and supply chain that benefits from the expertise of both Axens and its distributors. This is indeed a win/win situation for everyone involved.

"For many years now, the exclusive relationship in Canada has provided our customers with transparent access to the experts at Axens, while enjoying the benefits of consistent local, just-in-time support thanks to Quadra's North America Technical Support team." Philip Infilise, VP Resources, Quadra

In view of past successes, Axens' collaboration with its distributors will keep providing the best possible service to the Group's customers.