Throughout the years, plants can experience decreased performance, unpredictability, catalyst poisoning and deactivation. System failures and troubleshooting can result in unplanned downtime as well as loss in production. In today's competitive market, these unaddressed risks can lead to losses of millions of dollars per year.
As such, managing uncertainty is a key challenge for refineries. To enhance equipment reliability and effectively minimize risks, refiners can invest in solutions providing improved system monitoring. New digital process unit enables refiners to use existing assets to face effectively these challenges while positioning them to be more economically competitive. They allow refiners to anticipate potential impacts beforehand and be proactive in face of imminent issues.
Developed by Axens Horizon, Connect'In™ is a software-as-a-service that improve unit monitoring with the objective to support process and operation engineers and managers in their decisions process. The system is implemented to avoid sub-optimal operation and economic losses due to loss of time.
Connect'In™ At A Glance

Connect'In™ is a natural evolution of Axens' assistance services, with the ambition to become the trusted advisor of its clients during the entire unit lifecycle. This tool automatically collects data from the refinery with the highest standards of cyber security.
At the heart of Connect'In™ solution is the combination of high fidelity reaction models and the expertise of Axens data analysts and technologies specialists. It is also the embodiment of years of expertise resulting from technical assistance performed on process units all around the world.
All these factors ensure and guarantee the quality of the technical information and recommendations that are made available through Connect'In™. Results are shared on real time through dashboards and projection tools to support and accelerate the client decision-making process.
Delivering Value
Connect'In™ delivers value in multiple instances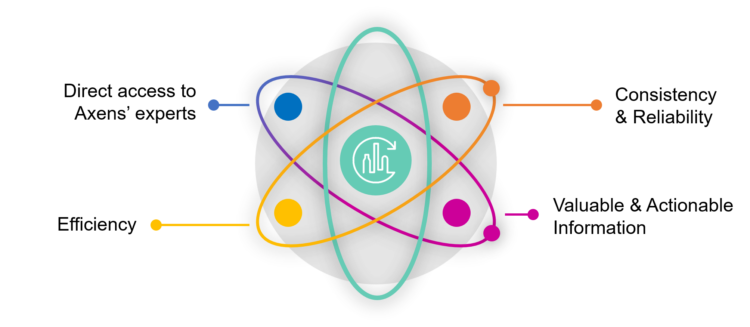 Direct Access to Axens' Experts



Connect'In™ provides a platform for troubleshooting and exchange as soon as a problem arises.



Consistency & Reliability



Improve Data Management between different employees as well as with third-parties. It makes the Process Engineer job easier and save him time collecting data, ensuring its consistency, reliability, that it is relevant and validated, allowing more time for other operational tasks.



Efficiency



Improve reporting efficiency and optimize tasks by having all stakeholders share the same updated information on a common dashboard at the same time.




Valuable and Actionable Information



Connect'In™ converts raw data into information. Based on Axens' Know-How and expertise, raw data is converted into KPIs, benchmarking and normalized trends by using High Fidelity models. Performance can be measured during the entire lifecycle of the unit and in-between cycles, allowing truly relevant unit performances assessment.
Eliminate Financial Loss Associated With Traditional Troubleshooting Delays
During an operation review the planning group of a refining company pointed out an upcoming shortage in octane in the gasoline pool. In addition, the problem was going to be amplified by an unexpected octane loss in their Prime-G+TM FCC selective gasoline desulfurization unit.
A traditional approach would have consisted in requesting detailed process data from the refinery and lab samples, as well as conducting an analysis to perform troubleshooting and determine the root cause in octane loss. With this traditional approach, several days would have been required for troubleshooting. As such, it would have resulted in an unplanned downtime and a lost in production, estimated to nearly $1 million.
With Connect'In™ implemented in this unit, it has been possible to make prediction of HDS rate through inferences, detect patterns of catalyst poisoning and suspicion of contamination. Immediately alerted, Axens technical services team took immediately appropriate actions to recover the expected octane in the gasoline pool, saving the company nearly $1 million.
Traditional approach
With Connect'In
Unit Troubleshooting

Several days are required

Immediate through inferences
Financial Result

Estimated

$1 million loss

associated with the unit downtime

Immediate appropriate actions to recover the expected octane resulted in nearly

$1 million saved
Be Proactive In Face Of Imminent Performance Decrease
In another case study, a semi-regenerator reformer displayed decreased performance as it reached the end of run reactor inlet temperature even after turnaround.
Axens' technical support noticed that the trend of cyclohexane to methylcyclopentane ratio in the product had risen sharply months before the unit shutdown, indicating that a leak in the reactor feed/effluent heat exchanger was the source of the poor performance. Connect'In™ used real-time data calculation and trend comparison to alert both the unit and Axens engineer as it happened.
Without the platform, the refiner stood to lose $2-3 million per year.
| | | |
| --- | --- | --- |
| | Traditional approach | With Connect'In |
| Performance Optimization | Leak in the reactor could have stayed undetected | Immediate detection of the leak through real-time analysis and trend comparisons |
| Financial Result | The refiner stood to lose $2-3 million per year | Immediately alerted, the refiner saved up to $2-3 million per year |
Maintain Catalysts And Adsorbents Activity At Peak Proficiency
In a Continuous Catalytic Reforming (CCR) unit, no operational changes were clear though a loss in performance was noted, due to non-availability of normalized performances.
Based on comparison with unit performance and Axens' high fidelity models, the Axens technical support engineer noted a decline in yields and possible catalyst deactivation. Working closely with site engineers, it was determined that silicon break-through from the NHT resulted in the deactivation as a result of a recent shift in crude slate.
The same high fidelity models can be used to predict how variations to the unit, such as feed quality, would affect the catalyst cycle length before such changes were implemented.