At a time when specifications for downstream products keep getting more and more stringent, Axens proposes an extensive technologies portfolio for Natural Gas processing, dedicated to both end users or to Liquefied Natural Gas (LNG) production.
"Global gas demand is expected to grow by 1.6% a year for the next five years, with consumption reaching almost 4,000 billion cubic meters (bcm) by 2022, up from 3,630 bcm in 2016" reports the IEA's latest market analysis.
Axens provides this expanding market with Natural Gas treatment solutions:
Regenerable adsorbents for drying and purification (AxSorb

®

)

Guard bed materials for mercury & sulfur removal (AxTrap™)

Sulfur recovery catalysts for the Claus & Tail Gas Treatment processes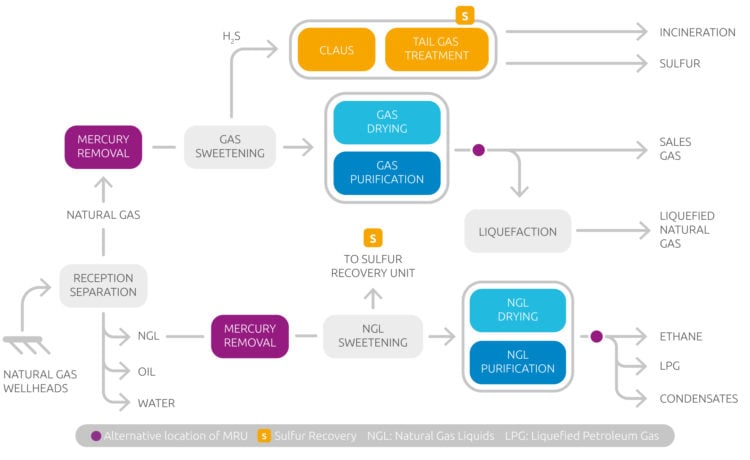 Axens products applications along the Natural Gas Processing block flow diagram
Tackle All Drying And Purification Issues With AxSorb® Series
The deep dehydration and purification of gas & liquid stream from Natural Gas processing requires fixed bed operation of regenerable adsorbents. The wide portfolio of AxSorb® Series includes molecular sieve desiccants with high and tunable selectivity, ideally complemented by optimized alumina products.

AxSorb® Series can help you deal with all impurities including water, carbon dioxide and sulfur species. Among those, carbonyl sulfide (COS) is present in Natural Gas but can also be formed along the processing scheme, e.g. in the purification section. AxSorb® Series help you to tackle this specific contamination issue through hydrolysis, removal or formation prevention.
Efficiently Remove Mercury & Sulfur With AxtrapTM Series
The removal of heavy metals and sulfur is performed using fixed bed operation of non-regenerable adsorbents also referred to as guard beds. Axens provides you with tailor-made solutions AxTrapTM series for both on-shore and off-shore facilities.
Boost Your Sulfur Recovery Yields
Sulfur Recovery Units task is to control and reduce gas plant emissions. Elemental sulfur is produced from hydrogen sulfide (H2S) rich streams using the Claus reaction in a mixed thermal & catalytic process. Sulfur recovery yields can be further boosted by the addition of Tail Gas Treating Units. Axens has developed a wide portfolio of catalysts suited for the processes dedicated to sulfur recovery.