Craken™ Series activity, selectivity and product properties are extremely competitive compared to other products on the market.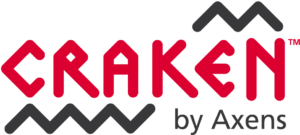 Hydrocracking Technology: a key unit in the modern refinery

In today's challenging refining industry context, making the most out of every unit is the key to maximizing profitability. The Hydrocracking unit is an instrumental unit that contributes in meeting the modern refinery's market objectives by converting heavy feeds to high-value products.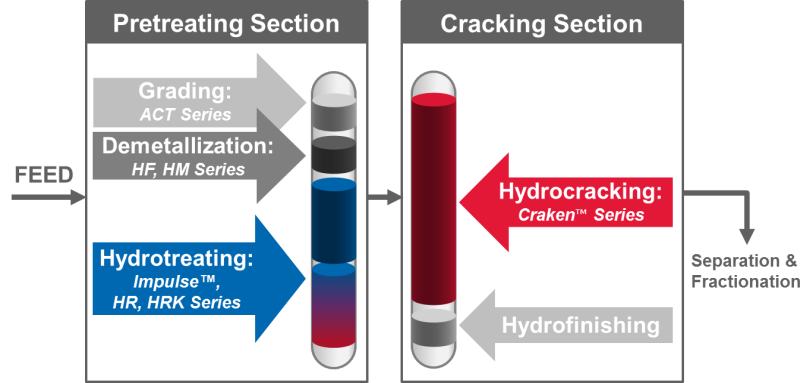 Simplified hydrocracking unit scheme


Choosing the best catalyst combination to meet production needs
Pretreating section
The cycle length of Hydrocracking units is often limited by pretreatment catalysts. Axens has developed a full array of state-of-the-art grading, demetallization and hydrotreating catalysts to enable maximum performance of the downstream cracking section.

The winning combination of the Impulse™ deep hydrotreating catalysts and Craken™ hydrocracking catalyst series offer unparalleled performances and ensure higher profitability. Axens provides solutions that extend the cycle length of Hydrocracking units thanks to the maximized HDN activity and superior stability of both the Impulse HRK 1448 and recently released HR 1058.
Cracking section
Craken catalysts are loaded downstream of highly active hydrotreating catalysts.

Craken-D and Craken-Flex catalysts are the result of step-out improvements and have been specifically designed to convert feeds such as VGO, HCGO, DAO and other refractory feedstocks into high quality fuels, such as heavy naphtha, kerosene and diesel.

Moreover, Craken Series catalysts are extremely tolerant to nitrogen, thanks to a highly performing bifunctional hydrotreating and cracking activity, allowing you to process opportunity crudes.
Craken™ Series performance mapping


Craken-D catalysts ensure:
Maximized middle distillate yield
Enhanced diesel cold flow properties, notably cloud point
Craken-Flex catalysts provide:
Optimized fuels production: naphtha and middle distillates
Enhanced unconverted oil (UCO) quality: Viscosity Index (VI), BMCI
Impulse & Craken, the winning combination
Impulse and Craken Series catalysts have more than 100 references worldwide in the high conversion hydrocracking field. They are definitely the winning combination to:
Squeeze more fuels from heavy ends ,
Reach high conversion levels ,
Enhance hydrodenitrogenation (HDN) activity,
Maximize volume swell,
Improve products properties,
Maximize unit cycle length,
… AND BOOST UNIT PROFITABILITY!