What is an adsorbent? What kind of adsorbents does Axens offer?
Olivier Ducreux: Adsorption is a physical phenomenon that takes place on the surface of a solid called an adsorbent. It enables the removal of trace contaminants from gas and liquid streams. Adsorbents have many applications, such as drying (H2O molecule removal) or purification of air, gases (mercury removal for instance) and liquids. They play a major role in the industry, helping operators upgrade the quality of their production, minimize pollution or corrosion issues.
After saturation has been reached on regenerable adsorbents, one can restore the original adsorption properties by desorption, by changing the isotherm by heating the adsorbent with a hot gas (thermal swing), or by lowering the partial pressure of impurities (pressure swing).
Axens adsorbents' offer includes zeolite molecular sieves, activated or promoted alumina and non-regenerable metal oxide/sulfide products. The AxSorb®, AxTrap™ and ActiGuard® portfolios enable Axens to achieve a leading position in the field of adsorption.
Jean-Claude Plumail: Axens has been manufacturing Claus catalysts and adsorbents in its Salindres plant (France) since the fifties. The alumina Claus catalysts were especially developed to remove a high level (15%) of H2S in the gas produced in Lacq (France). In the mid-eighties, Axens developed a unique high-activity titanium dioxide catalyst, which marked a major breakthrough in the industry.
In the late fifties, Axens also started to produce activated alumina for drying and purification of air and hydrocarbons. The acquisition of the Rio Tinto Alcan facilities in Brockville (Canada) in 2011 allowed Axens to expand both its production capacities in North America and its specialty alumina product range for other specific applications: polyethylene purification, hydrogen peroxide purification and water purification.
Very recently, Axens expanded its AxTrap™ solid sulfur scavengers offer. These new adsorbents offer economically competitive purification solutions to process greenhouse streams containing moderate amounts of sulfur in applications such as landfill gas, biogas, associated gas or CO2 treatment.
What is a Claus catalyst?
Eric Roisin: To avoid SOx (Sulfur Oxides) emissions, sulfur has to be removed from hydrocarbons by hydrodesulfurization processes, which produce hydrogen sulfide (H2S). The Claus unit enables the transformation of H2S into sulfur, which is further valorized, notably in the fertilizing industry.
The catalysts used to recover sulfur are mainly macroporous alumina (CR or the most tolerant CR 3S ), titanium dioxide (CRS 31 for increased performances), and CoMo catalysts for the hydrogenation of Claus tail gas: TG 107 and TG 136 catalysts can be operated at a low temperature, enabling important energy savings.
Axens invented most of the catalysts used to recover sulfur. With multiple production sites, and both technical and commercial proximity to operators, it is a world leader in the sulfur recovery catalyst business.
Do you have a practical example?
Christophe Nedez: Led by Chevron Australia with important co-stakeholders (Shell, ExxonMobil and several Japanese natural gas companies), the Gorgon project is a major three trains Liquefied Natural Gas (LNG) project. With a capacity of more than 15 million tons of LNG per year, it is one of the world's largest natural gas projects.
Gorgon's key mercury removal sections were awarded to Axens, which delivered AxTrap™ 200 adsorbents with a unique formula including metal sulfide on alumina carriers. These adsorbents can be loaded under atmospheric air and are non-self-heating.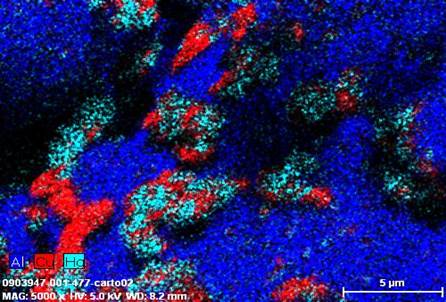 During operation, mercury (in light blue) is irreversibly attached to the metal sulfide (in red), which is strongly linked to the alumina surface via a chemical reaction. Picture: IFP Energies nouvelles
The respect of specific quarantine requirements of Barrow Island fixed by the North West Australia authorities was an additional challenge!